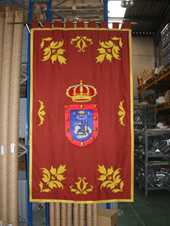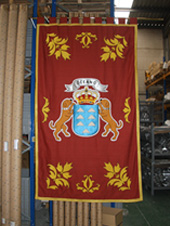 DESCRIPTION
The heraldic banner is a classic product , like a tapestry, is placed indoors and assembly hall , city hall, etc. , or outdoors on the occasion of celebrations and commemorations relevant .
The heraldic banner are handcrafted products and therefore are configured according to the needs of each municipality or local entity.
If you want some clarification phone call 900 222 222 (free ) .
Details to configure a n heraldic banner.

| Materials: | Wool, felt or velvet | Greek perimetrel: | Models to choose from |
| --- | --- | --- | --- |
| Size: | Any size | Festoon: | Models to choose from |
| Finish: | Almena or smooth | Quality: | Maximun |
| Embroided: | Machine or hand | Support bar: | Gold brass or chrome and wood |
| Coat of arms: | Any size | Attempt: | 5 model to choose from |
OPTIONS
MATERIALS
Felt
GREEKS

010 model
GREEKS

Modelo 050
FESTOON

050 model

Wool

020 model

060 model

02 model

Velvet

030 model

070 modelo

03 model

040 modelo

080 model

04 model
FINISH
Anchor bar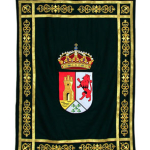 Battlement
Support bar

Golden brass
Bar finish

Flat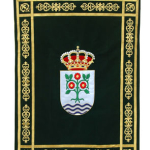 Smooth

Chrome-plated brass
Sphere

Stainless steel
Ball

Wood
Arrow