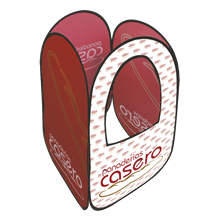 DESCRIPTION
Iberti Shop is an easy to assemble stand, light-weighted and functional. Promote your products in urban areas.
TECHNICAL SPECIFICATIONS

Grafica textile polyester and Lycra of the highest print quality. Fastening tape.
DIMENSIONS
It consists of 4 faces: Sizes, Window: 212 x 139 cm / Rear: 212 x 125 cm. Sides: 212 x 132 cm.
FINISH
It comes with 4 belts with rings for pike and carrying bag.