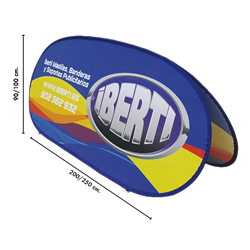 DESCRIPTION
Elipse is a flexible large format tailored for easy transport and are thus reduced to a comfortable size.
TECHNICAL SPECIFICATIONS

Fabric graphic of textile polyester and lycra for a high print quality.
DIMENSIONS
Available in two sizes, 90 x 200 cm and 100 x 250 cm.
FINISH
It comes with 4 suctions pads and 4 pikes as well as with its carrying bag.