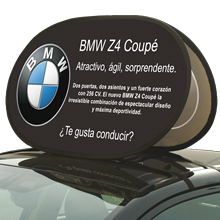 DESCRIPTION
Ideal for promotions or product ads on the roofs of vehicles. Direct, simple and communicative. One way to surprise with a simple glance.
TECHNICAL SPECIFICATIONS

Graphic fabric polyester and Lycra of the highest quality print belt, wrist strap passing through the front doors of the vehicle being joined by velcro.
DIMENSIONS
Available size, 60 x 120 cm.
FINISH
Comes with a carrying bag.