SAIL

ARM

TEAR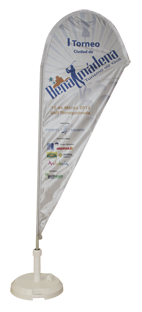 BASES
---
The widest range of market bases for FLY BANNER .

FILLABLE
WATER OR SAND

CAR

26 Kg
FILLING CONCRETE

PIKE

36 Kg
FILLING CONCRETE

FOR INTERIOR
MEASUREMENTS
---
We have three sizes of masts each of which can be used in any of three ways: SAIL, ARM and / or TEAR.

All our bases have rotating bushing so the flag rotates in the wind direction preventing breakage.

Compared to other Asian options of low quality where all elements except the last are aluminum or iron , all elements of the masts of our Fly Banner are made of fiberglass and epoxy resin , resulting in a product of maximum strength and lightness.

The 26 kg and 36 kg refillable bases are manufactured by injection polyethylene achieving a robust and resistant bases. The base type car and pica are elements made with lots of steel for stable and robust bases.